Lightning scetcher and cartoonist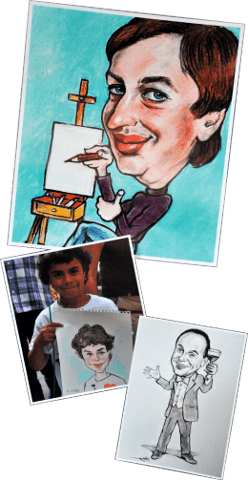 Fast drawing expert and caricaturist Sascha Cherniajev from Cologne is an internationally known artist. Wherever he performs, it results in lightning-fast and accurately drawn caricatures and portraits. With a lot of good humor and empathy his performances always provide entertainment and a relaxed atmosphere for any kind of events: conferences, galas, trade shows, corporate events, weddings, birthdays and others.
Cartoonist and portraitist from photo reference
Additionally, the caricaturist and cartoonist also paints after photographic pattern: He will create caricatures, funny cartoons, comics, and portraits corresponding a photo of your choice. Ordering Sascha's portraits is also available online: Contact the artist via email or contakt form and get yourself an attractive offer!
Lightning scetching in Germany and Europe
The focus of the appearances of Sasha Cherniajev is North Rhine-Westphalia – e.g. in Cologne, Dusseldorf or in the Ruhr area. In other cities – including Berlin, Frankfurt, Hamburg, Stuttgart, Munich – the skills of the lightning scetcher and cartoonist are in high demand, too. Hence his bookings spread all over Germany. Sascha's charming and entertaining performances and his outstanding portraits are also a lasting memory abroad – in Southern France, Majorca, Italy or in our neighboring countries Austria and Switzerland.